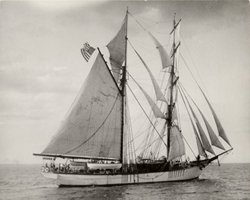 The Carnegie on its trial cruise, 1909.
At the turn of the 20th Century, scientists knew that the earth's magnetic field varied across the globe and over time, causing compasses to go awry and point as much as several degrees away from true north. Sailors found this inconvenient, but it was the scientific community that was truly perplexed. The phenomenon was not a recent discovery; Edmond Halley had in fact charted the variation of the earth's magnetic field as early as the 18th Century. The matter was still a mystery though, and Louis Agricola Bauer was determined to have it solved.
The Department of Terrestrial Magnetism was established by the Carnegie Institution of Washington in 1904 expressly to investigate the magnetic field of the earth and its variation, both over space and over time. This site focuses on the ocean surveys of the Department which measured the magnetic field in the world's oceans on ten voyages over a period of nearly 25 years in the early 20th Century. Two vessels were employed in this investigation, first the Galilee, then the custom-built Carnegie.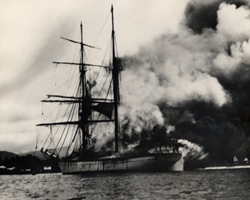 The Carnegie burning in Samoa, 1929.
The features of this site are the published narratives of each cruise of the Galilee and the Carnegie, which have been scanned and converted to hypertext. These cruise reports tell the stories of the voyages, the scientific work accomplished, and the scientists and crew who carried out the work. Also on this site are photographs from the Department's archives, as well as archived news clippings and memorabilia, maps and other illustrations. All images used on the site are indexed in the image galleries, and in most cases a larger resolution is available. This site is intended to provide an overview of what was a significant endeavor of the Department of Terrestrial Magnetism and of the Carnegie Institution. A bibliography and listing of published results of the cruises is provided for guidance for further study.