The Carnegie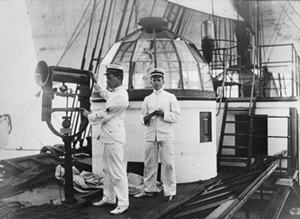 Observers aboard the Carnegie measure the ion content of the atmosphere, 1911.
The Carnegie was a vessel specially designed for the purpose of studying the earth's magnetism. Designed by Henry J. Gielow and built by Tebo Yacht Yard in Brooklyn, New York, the ship was made almost entirely without iron. The ship was christened by the daughter of the director of DTM on June 12th, 1909, and promptly set sail on its first of seven cruises. J. P. Ault, an observer on the Galilee and the first cruise of the Carnegie, was the admired captain of the Carnegie for five of its seven cruises. (Please see the online exhibition J. P. Ault: A Scientist at Sea.) The Carnegie traversed the world many times, including a circumnavigation of Antarctica in a single season, collecting vast amounts of geophysical data. The ship was decommissioned in 1921 and dry-docked in Washington. It was recommissioned for its most ambitious cruise yet in 1927, however the seventh cruise of the Carnegie was cut tragically short when the ship exploded in Apia, Samoa, killing the captain and the cabin boy.
Read more about the Carnegie's work in John Bunker's 1982 article "Sailing the Magnetic Fields." Also available online is an account of the explosion which appeared in the Carnegie Institution Newsletter in 1972.
Maps
Cruise I map
 
Cruise II map
 
Cruise III map
 
Cruise IV-V map
 
Cruise VI map
 
Cruise VII map
 
Tentative Route for Cruise VII
Circumnavigation of Antarctica (1915-16)
Timeline
1908 Dec 8: Contract to build Carnegie let to Tebo Yacht Basin Company, Brooklyn NY 
1909 Jun 12: Carnegie dedicated 
1909 Sept 13: Cruise I sails from Block Island, Rhode Island 
1910 Feb 17: Cruise I concludes in Brooklyn, NY 
1910 Jun 20: Cruise II sails from Brooklyn, NY 
1913 Dec 19: Cruise II concludes in Brooklyn, NY 
1914 Jun 8: Cruise III sails from Brooklyn, NY 
1914 Oct 21: Cruise III ends in Brooklyn, NY 
1915 Mar 6: Cruise IV sets sail from New York 
1917 Mar 2: Carnegie docked in Buenos Aires, Argentina, during WWI 
1917 Dec 4: Carnegie leaves Buenos Aires for U.S. (Cruise IV) 
1918 Jun 4: Carnegie returns to Washington, DC 
1919: Carnegie converts from producer-gas to gasoline-powered auxiliary engine 
1919 Oct 9: Cruise VI sails from Washington, DC 
1921 Nov 10: Cruise VI ends in Washington, DC 
1921: Carnegie decommissioned 
1927: Carnegie recommissioned, undergoes extensive reparis 
1928 May 1: Cruise VII sails 
1929 Nov 29: Carnegie explodes, sinks in Apia , Samoa